Tharg's Nerve Centre explained that the stories in the Special were themed around Ruby and the colour red, in honour of the 40th anniversary of 2000AD. Interlude pages introduce each story, written by T.M.O and letters by Simon Bowland, with different art droids illustrating each page.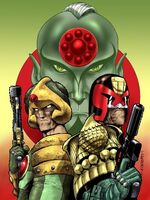 References
Edit
Ad blocker interference detected!
Wikia is a free-to-use site that makes money from advertising. We have a modified experience for viewers using ad blockers

Wikia is not accessible if you've made further modifications. Remove the custom ad blocker rule(s) and the page will load as expected.