The Torture Tube was a Nemesis the Warlock game and story in Dice Man No 1
Torquemada captured Purity Brown and broadcast a special message which he knew Nemesis would intercept, threatening to kill her at midnight unless the Warlock saved her.
The routes to the torture chamber were lined with traps, Terminators, Tube Police and other hazards.
Characters
Edit
Locations
Edit
Technology
Edit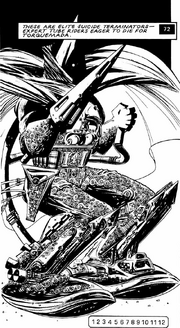 References
Edit
↑ You Are Nemesis the Warlock in The Torture Tube, Dice Man No 1
Ad blocker interference detected!
Wikia is a free-to-use site that makes money from advertising. We have a modified experience for viewers using ad blockers

Wikia is not accessible if you've made further modifications. Remove the custom ad blocker rule(s) and the page will load as expected.